Pinot Noir - 1 Star - No Rating
1

Pino Pino 2018
When you think of Italian "Pinot," most immediately think Pinot Grigio. But here's a fun fact: Italy also produces some fabulous (and hard to find) Pinot Noir. And this lush, raspberry-rich take from a hugely acclaimed estate proves the point.
2

NPR Alt.Latino Pinot Noir 2019
NPR's Alt.Latino podcast celebrates Latinx arts and culture. What better way to get the conversation flowing than with a glass of Pinot Noir? Crafted by Argentine winemaking star Leonardo Puppato, it's fresh, red-fruited, and smooth as silk.
3
Perfect Summer Pinot Noir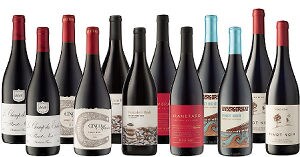 Why do we love Pinot in summer? It has ripe, red-fruit flavors, is delicious lightly chilled and pairs well with warm-weather foods. See out summer in style with a gold-medal French release, silky California exclusives and more for JUST $13.99 each.